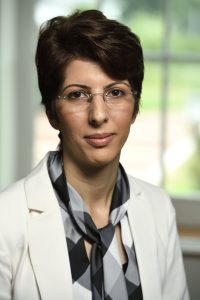 After receiving a Google exploreCSR award, a Johns Hopkins University computer scientist will launch the first of a three-part virtual workshop series next week for undergraduates interested in computer science research opportunities. The exploreCSR program provides financial support for faculty to establish resources for underrepresented undergraduate students interested in pursuing graduate studies and research careers in computing.
The series is a part of a new program, Introduction to Computing Research, created by Soudeh Ghorbani, an assistant professor of computer science at Johns Hopkins University's Whiting School of Engineering. Its goal is not only to help students learn about various areas of computing research, but also to connect them to mentors and research internship opportunities in computing.
"A challenge for computer science majors early in their academic careers is that they have very little research experience and limited opportunities for being exposed to different areas of computing," Ghorbani said. "It's important for students to practice research right away and get involved in different research projects, to determine if this is something that they want to pursue." She noted that students who have research experience early on in their studies are more likely to receive offers for additional research opportunities.
The three-hour virtual workshops, the first of which is set for 2 to 5 p.m. on Monday, April 26, will include Hopkins engineers, industry experts, computer scientists, and researchers from peer colleges and universities, and will cover topics in computing ranging from theoretical computer science to machine learning, in addition to topics on interdisciplinary areas and computing applications. (The second and third events are set for Wednesday, May 26 and Thursday, June 24; those interested can register for the individual events online).
To read the full story in The Hub, click here.