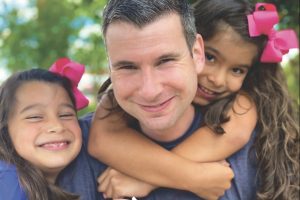 During the Wimbledon championships, tennis takes place on 18 courts, while most fans watch one match at a time and then view preselected highlights later to catch up. To deliver highlights faster and more effectively, Wimbledon turned to Aaron Baughman's team at IBM, which developed AI Highlights. This new technology automatically processes live-streaming videos of tennis, relying on indicators such as crowd noise, commentator tone, and player gesture to measure excitement and then select video segments to highlight.
As a Master Inventor and distinguished engineer at IBM, Baughman, MS '07, creates AI-based experiences such as this for the U.S. Open, the Masters Tournament, ESPN fantasy football, the Grammy Awards, and others — work that, in turn, has led to some extraordinary real-life experiences.
"I've been able to go into the ESPN studios and meet celebrities such as Matthew Berry, Sage Steele, and Baron Davis," he says. He has also competed directly against NFL football players such as Eli Manning in celebrity fantasy football leagues.
After completing his bachelor's degree in computer science at Georgia Tech, Baughman worked for U.S. classified government agencies on biometrics (face, iris, and fingerprint) while completing a master's degree in computer science at Johns Hopkins. He was able to craft his own curriculum and include courses in applied biomedical engineering. "The cross-disciplinary aspect of the Johns Hopkins education is very unique," he says.
In 2011, he began working on the Jeopardy! (Watson) project at IBM. The question/answering computing system was initially developed by IBM to win at Jeopardy!, but the broader aim was to build technology that could find answers from unstructured data more effectively than standard search technology. "I joined right after the show and was able to contribute a lot to the machine-learning part of the project," he says.
Baughman joined the sports entertainment events group at IBM in 2013. With the pandemic, his team has been challenged in new ways to generate interest and excitement for sporting and entertainment events. For the first-ever virtual Grammys in March 2021, they created a series of structured debates, with Grammy Debates with IBM Watson. Baughman worked with the IBM Research Lab in Haifa, Israel, to create a music business application for Project Debater. Throughout Grammy night, thousands of fans used this platform to express their opinions on a variety of debatable statements, such as "Billie Eilish is the biggest style icon in music."
Baughman holds 241 U.S. patents and is ranked as the 226th most prolific living and deceased inventor in the world. Looking to the future, he says: "From an AI-based experience perspective, I'm always interested in how users can interface and use computing in new ways. I hope that we'll be able to use some of my inventions to accelerate a sustainable method of living."
This article originally appeared in the JHU Engineering Magazine >>