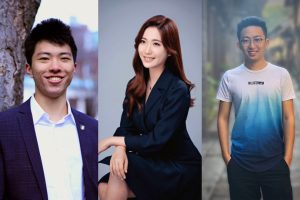 Three computer science undergraduates have been awarded the Pistritto Fellowship to conduct research alongside a faculty sponsor. The 2022-2023 Pistritto Fellows from computer science are third-years Kyuhee Jo '23, Chinat Yu '23, and Jingyu (Jack) Zhang '23.
The Pistritto Fellowship, created by computer science alumnus Joseph Pistritto, funds collaboration between the awardees and a faculty member within the Department of Computer Science.  This summer-long intensive research experience is aimed to prepare students to continue making groundbreaking discoveries in computer science through guided mentorship.
Kyuhee Jo hopes to apply her research to the use of AI in the medical field.  Jo found a passion in entrepreneurship and hopes to apply her AI research to start her own company.
"I love studying new technology and imagining how it could change our future, including AI and Blockchain," said Jo.
She developed multiple software and business ideas, including; Spheroid AI, a medical software that provides automatic RECIST and tumor volume measurement; Derafy, a personal NFT gallery; and GuideDog, an ML-based Mobile app for the visually impaired, which won first place in HopHacks.
Chinat Yu plans to pursue research on didactic methods and technology.  He developed an interest for an enhanced educational experience over the course of the COVID-19 pandemic.
"I have always been fascinated by the way that people learn and apply their knowledge. I hope to use technology to close the education inequity gap and well as optimizing the way people learn," stated Yu on his intended research goals.
Junior Jingyu (Jack) Zhang has focused his research interests on natural language processing and has an extensive background in various organizations such as co-leading MedHacks, JHU's premier medical hackathon organizers.
"I have been doing multiple projects about NLP in JHU's Center for Language and Speech Processing as well as MIT's Computer Science & Artificial Intelligence Laboratory. Working with Mark Dredze, John C. Malone Associate Professor in Computer Science, my project for the Pistritto Fellowship is at the intersection of social media analysis and natural language generation," stated Zhang.
For more information on JHU undergraduate research opportunities, click here.