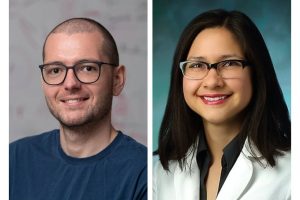 Mathias Unberath, an assistant professor in the Department of Computer Science, has received a grant through the Bisciotti Foundation Translational Fund. The grant funds will go toward developing software that can diagnose strep throat based on a cellphone photo. 
Established with a generous multiyear gift from the Stephen and Renee Bisciotti Foundation, the fund provides $300,000 annually in seed money to advance Johns Hopkins discoveries on a commercial path. Recipients are awarded between $25,000 and $100,000 to conduct their work during a period of up to nine months.
For this year's funding round, 14 applications were submitted. Five finalists presented their work in late January to an outside panel of researchers, scientists and investors.
Telehealth doctors caring for sore throats — which account for up to 10% of all pediatric visits — either send patients out for a throat swab or prescribe antibiotics if they suspect strep throat. In-person visits can take several hours, while prescribing antibiotics without a throat swab might be unnecessary and could lead to unwanted side effects or the proliferation of drug-resistant bacteria.
Unberath and Therese Canares, director of pediatric emergency medicine digital health innovation, are developing a machine-learning algorithm that screens for strep throat based on throat images a patient captures and uploads with their cellphone. The researchers are expanding their dataset of throat images and related information. They will use this dataset to train the model that the algorithm employs to distinguish strep throat from an ordinary sore throat while also accounting for race, sex, ethnicity and age to minimize bias. The results are sent to the patient's doctor, who can then use the information to assist in treating the patient.
Johns Hopkins Technology Ventures is working with the inventors to patent the technology. Canares and Unberath plan to use the funding to enhance the accuracy of their machine-learning algorithm and develop a prototype of the patient-user interface. Canares would like to form a startup to provide a platform for mobile, artificial intelligence-driven medical diagnoses for common childhood illnesses.