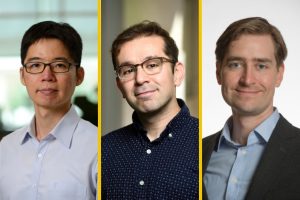 Three CS faculty members and their interdisciplinary research teams will receive 2023 Digital Education and Learning Technology Acceleration Awards. Chosen from a pool of 15 submissions, proposals by Chien-Ming Huang, Daniel Khashabi, and Benjamin Van Durme have been selected by the Johns Hopkins Provost's Office to receive grants of up to $75,000 to support innovation in learning through digital technology.
This year's winning proposals will receive a total of more than $374,000. In the six years since its creation, the DELTA Awards program has distributed more than $2.2 million in funding, enhancing education both within and outside the university.
Huang develops interactive robot systems that work cooperatively with people to increase task performance and enhance user experience. Specifically, his research focuses on deciphering human behavioral cues to recognize task intent, synthesizing intuitive robot behaviors to facilitate collaborative activities, and developing interfaces and methods for users to re-skill robots to perform custom tasks. He will work with colleagues at the School of Medicine—Francis Deng, an assistant professor of radiology and radiological science, and Jenny X. Chen, an otology and neurotology fellow—and with Paul Yi, an adjunct assistant research scientist at the Malone Center for Engineering in Healthcare, on their project, "From Random to Deliberate Practice for Radiology: High-Fidelity Simulation with Artificial Intelligence-Generated Feedback." To meet the rising demand for radiology training, they plan to develop a high-fidelity simulation platform that gives students AI-generated feedback.
Khashabi's work focuses on computational foundations of intelligent behavior within various mediums of communication—particularly natural language—while Van Durme's research centers on how computers acquire knowledge about the world, whether it is specific facts or general knowledge. Joined by Kimberley Chandler, Senior Program Officer of Curriculum Design and Online Programs at the Center for Talented Youth, and Jennifer Morrison, an associate research professor at the School of Education, they will research "Collaborative Intelligence—AI as Co-Teacher/Tutor in the K-12 Classroom" with the goal of teaching K-12 students to ethically use AI tools to support their learning.
See the full list of 2023 DELTA Award recipients and their proposals >>