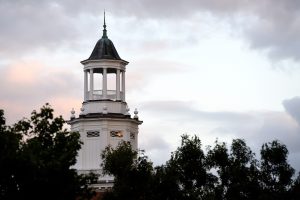 Entrants to HopHacks, Johns Hopkins University's biannual hackathon, will face a new civic-focused challenge at the upcoming event, set for Friday through Sunday, Sept. 14 to 16, on the school's Homewood campus. The Civic Hack—sponsored by the Maryland Institute College of Art (MICA) and the Baltimore City IT Department (BCIT)—will challenge entrants to use "Lutèce," an open-source platform developed by the City of Paris, to develop apps aimed at improving city life.
More than 300 undergraduate and graduate students—some working alone and others in teams of up to four—from across the country are expected to take part in the event, which is held every fall and spring at Johns Hopkins. Though hackers are free to work on any application throughout the weekend, student organizers anticipate significant interest in this new challenge. As inspiration, Baltimore City Council community liaisons have compiled a list of real-world, high-priority community issues that need solving, and hackers will have access to city data.
Baltimore City officials, alongside those from MICA, local community organizations, and the City of Paris will judge the Civic Hack competition. The winning team will receive in-kind prizes valued at $1,000, as well as opportunities to collaborate with BCIT public sector to prototype their products. Official competition rules, as well as additional information and updates, can be found on the HopHacks website.
Experts from the City of Paris' IT Department will offer entrants a workshop in how to use the open-source platform immediately following the event kickoff on Friday evening. These specialists will be on hand throughout the 36-hour hackathon to offer technical support, as well.
"Baltimore is a city of millennials and we're fortunate to benefit from their energy, enthusiasm and innovative approach to identifying solutions that make city living better," said Catherine E. Pugh, Mayor of Baltimore. "Smart city government means depending on smart individuals who offer approaches that might not have been considered. I'm eager for the good ideas and insights that students here in our community will generate, and those from across the country, and welcome the best ideas that will support our efforts to move our city forward."
Andrew Wong, HopHacks student organizer, is excited about the possibilities presented when university students partner with their communities.
"HopHacks and Hopkins students are part of a unique intersection between a university environment and the Baltimore community. As part of both communities, we are enthusiastic about pushing students to use the skills they learn here and elsewhere to give back to our city. The Civic Hack theme, coupled with the versatile platform Lutèce offers, provides an opportunity for our participants to contribute meaningful work to our city that continues past the duration of the hackathon, and be inspired by seeing first-hand how impactful their work can be," he said.
Emmanuel Grégoire, Paris deputy mayor, is pleased that the city's open-source platform will be put to use to create innovative solutions for other cities. The platform is free for cities to use and boasts 400 ready-to-use modules designed specifically for city government needs including a participatory budget, reporting platforms, and website design.
"We'd like to invite cities around the world to join the development of this free, open-source platform that has helped improve the lives of so many Parisians," he said.
Sheri Parks, vice president of strategic initiatives at MICA, said, "One of MICA's key roles in our city is to connect artists, designers and grassroots communities to co-design creative and innovative solutions that reflect what the communities know about themselves. A free and open Lutèce platform empowers community members to participate in the equitable generation and management of the knowledge about them and the approaches that follow. A municipal hackathon invites students from a variety of fields to contribute and we believe that the creative minds and strategies of artists and designers often produce new approaches to community challenges."
Members of the media who expect to cover this event should RSVP to Shani McPherson at (510) 393-7159 or sprovos1@jhu.edu.