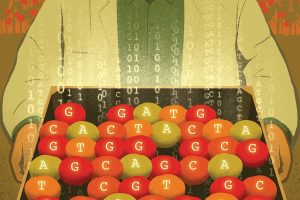 You probably missed it, but 2012 was a momentous year for the tomato.
That spring, the Tomato Genome Consortium announced that it had, for the first time, sequenced an entire tomato genome. The undertaking required a massive and complex effort, one that involved more than 300 scientists from 14 countries working collaboratively for almost eight years. They saw it as a critical first step to decoding the many characteristics of one of the world's most popular and economically dynamic fruits—its worldwide market estimated at $190 billion—and applying that knowledge to improving the quality and adaptability of other plant species. Juicy, drought-resistant tomatoes coming to a grocery store near you.
Last year, a handful of researchers co-led by Johns Hopkins computer science and biology Professor Michael Schatz completed another tomato sequencing project, albeit with a reshaped objective: decode the genomes of 100 different varieties of tomatoes. And they did it, as planned, in 100 days.
That's how dramatically the technology of gene sequencing has advanced in less than a decade.
"It's a totally new world for genomics," Schatz says. "Just the scale, the efficiency, the complexity that's possible now."
Schatz oversaw the 100 varieties project, along with Zach Lippman, a biologist and professor at the Cold Spring Harbor Laboratory in New York. The research, funded by the National Science Foundation, illustrated how increasingly sophisticated software has made it possible to zero in on the genetic components that make a tomato taste better, grow larger, and look delectable.
Read more at The Hub.