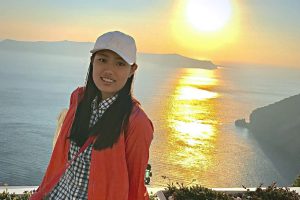 Shiye (Sally) Cao has been named as a finalist for the Computing Research Association's (CRA) Outstanding Undergraduate Researcher Award.  This year's class of nominees have impressive backgrounds in research, authoring or co-authoring papers, mentorship or internship experience; and community volunteer efforts.  The complete list of honorees and their distinctions can be found here.
A fourth-year in the Department of Computer Science, Cao has spent her time at Hopkins as an integral part of both the Society for Women Engineers SWE++ Program and Undergraduate Leaders in Advising Program, where she has helped to foster diversity in the JHUCS community. Through the SWE++ program, Cao had the opportunity to mentor six first-generation students in the department, as well as aid other students through her position as lead course assistant in machine learning.
Joining Chien-Ming Huang, John C. Malone Professor of Computer Science, Cao began researching AI-assisted human decision making, the AI-human interaction, and the relationship between available decision time and people's reliance on AI-assistance in simulated tasks. This topic has inspired Sally to continue her research in the AI-human relationship dynamic in her future PhD studies.
Previous JHU CRA awardees:
Shiye (Sally) Cao '22 (2022) Finalist
Frank Bu MS '21 (2021) Honorable Mention
Gongqi Huang '21 (2021) Honorable Mention
Xiang (Lisa) Li '20 (2020) Winner
Praneeth Sadda '14 (2014) Honorable Mention