Fast-paced, fulfilling, rewarding. These are just a few of the words that Daniel Chong, a fourth-year electrical and computer engineering and computer science double major at the Whiting School of Engineering, uses to describe a recent internship at the NASA Johnson Space Center (JSC) in Houston.
Chong spent eight months—from January to August of 2022—as a robotics flight controller engineering intern at JSC, exploring the intersection of computer science and aerospace engineering. He was part of an elite group of students participating in the NASA Pathways Program, which aims to create a clear route to helping them land jobs at JSC upon graduation. NASA offers this paid internship in three different tours, or sessions, every fall, spring, and summer.
The experience confirmed for Chong that his childhood dream of becoming an astronaut was something he wanted to pursue in reality.
"Working at NASA and meeting many astronauts, learning more about what they do, and contributing to projects that involve them through the NASA interns program confirmed for me that I do want to pursue becoming an astronaut," Chong said. "But even if I don't end up as one, I want to contribute to space exploration and research as an electrical engineer or computer scientist."
To be eligible for NASA employment directly after graduation, students in the Pathways Program are required to work a total of 640 hours on their tour and to complete three tours. Chong is seeking an optional fourth tour this summer.
As a member of the Robotics Operations group, Chong helped design missions that will be carried out on the International Space Station and took various classes on robotics, the pace and content of which he felt ready to handle after his rigorous curriculum at JHU.
"I even passed my general robotics training evaluation on the first try—the same one that all the astronauts have to pass," said Chong.
Though the internship kept him busy controlling robotic arms in space and spending long hours overnight in the control room, Chong still found time to explore the grounds of JSC and attend lectures from experts including former NASA Chief Flight Director Gene Kranz and Jonny Kim, a NASA astronaut who served as the International Space Station's increment lead for Expedition 65 in 2021.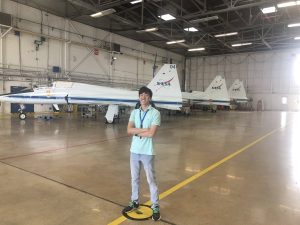 When he finishes his master's degree in the fall of 2023, he will choose between entering as a full-time NASA employee or pursuing a PhD, which Chong states is a tough decision.
Though Chong is not studying aerospace or aerospace engineering at JHU, he emphasizes the importance of having both electrical engineers and computer scientists in the control rooms.
"Between working on simulations that are used to train astronauts or building electrical components to tools that are sent up into space, there is a lot of room for students studying disciplines besides aerospace engineering to make meaningful contributions to the aerospace industry," he said.
In fact, those studying electrical engineering and computer science are the top five most represented disciplines among those interning at NASA.
"I would encourage all engineering majors to consider applying for a pathways position at JSC if you find space interesting at all," said Chong.