2019 Whiting School of Engineering Convocation and Department Awardees
May 14, 2019
Congratulations to all of the 2019 Whiting School of Engineering Convocation and department awardees. See below for a complete listing of department and school awards and honorees:
Department Awards:
CS+X Award – Alaleh Azhir, Peiyong (Steven) Zhang
Outstanding achievement in combining diverse studies with computer science.
Michael J.Muuss Research Award – Xiang (Lisa) Li
For best application of research to practice.
Most Valuable Peer Award – Alan Lai
For the student who has contributed the most to the undergraduate CS community and departmental.
Outstanding Course Assistant Award – Rui (Sherry) Shen, Emily Cheng
Outstanding skill and effort in assisting with the teaching of our courses Halim
Outstanding Senior Award – Adriana Donis-Noriega, Tim Kutcher, Elaine Wong
Senior major for academic excellence, leadership and service in CS
Professor Joel Dean Excellence in Teaching Award –  Ryan Huang (faculty), Leandro Facchinetti (student)
Outstanding teaching contributions to the department by a graduate student or faculty member
Special Service Award – Joshan Bajaj, Kristin Yim
Outstanding work to benefit the department, JHU and the community
Joseph C. Pistritto Research Fellowshp – Alaleh Azhir and Mariah Schrum
Whiting School of Engineering and Krieger School of Arts and Sciences Award: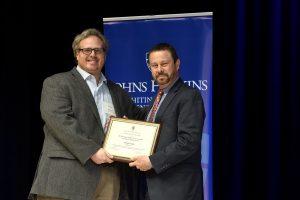 The Johns Hopkins Alumni Association Excellence in Teaching Award * – Michael Schatz, Bloomberg Distinguished Associate Professor of Computer Science and Biology
Funded by the Johns Hopkins University Alumni Association, this award recognizes excellence in teaching. Past recipients have been honored for their enthusiasm in the classroom, interest in their students, and ability to teach complex and difficult information.