Hopkins Engineers Win First Prize at Biannual Hackathon
February 25, 2019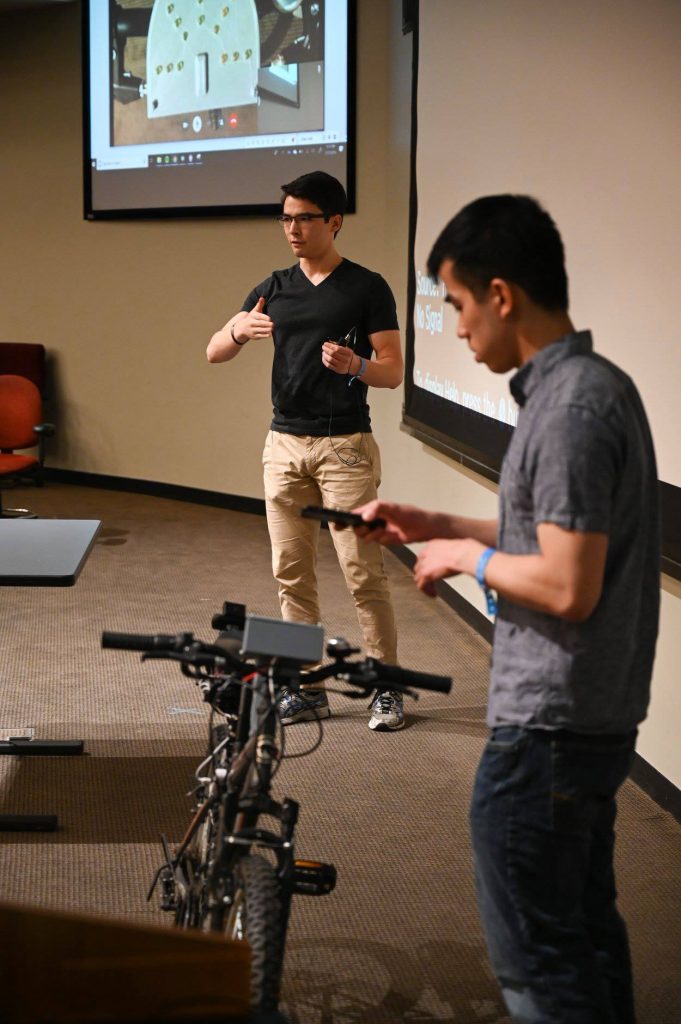 Travis Chan, a junior electrical and computer engineering major and Thomas Keady, a Robotics master's student, won the grand prize of $1,024 at HopHacks, the 36-hour student-run hackathon that took place February 15 through 17 on the Homewood campus. The biannual event is hosted by the Whiting School of Engineering's Department of Computer Science.
The duo created YOLObike, a device designed to keep bicyclists safe by detecting vehicles and traffic behind them. "There are over 800 cyclists who have been killed by automobiles every year and over 50,000 who were injured. Of those deaths, about 40 percent of them were hit from behind by an automobile," said Chan. "We thought that there has to be a safer way to bike on roads, so we created the YOLObike."
YOLObike uses a camera and LIDAR (a detection system that uses light from a laser) to scan the area behind the bicycle. Using computer vision, the camera identifies vehicles, while the LIDAR measures the detected vehicles' distances from the bicycle. YOLObike is completely battery-powered and also broadcasts a Wifi network that allows the user to view the video stream.
This was Chan's first HopHacks competition, but he's previously participated in other hackathons, such as MedHacks. MedHacks is a medical hackathon and design competition for students interested in healthcare engineering.  Keady has competed in HopHacks several times and is excited about the success of YOLObike. "Honestly I was surprised by how well YOLObike performed, so I'm interested in spending more time on it," said Keady.
This summer, Chan will be working as an Internet of Things data engineer at Micron Technology. Upon completion of his graduate degree in May 2019, Keady will join Gecko Robotics, an industrial robotics startup in Pittsburgh.
Nearly 300 students representing 26 colleges and universities from around the country participated in this spring's competition, creating 36 projects judged by local entrepreneurs, sponsors, JHU alumni and professors. Winners took home more than $4,000 in sponsored prizes.