Near Calgary
---
Rocky Mountains
Banff area
Getting To Banff National Park
Banff National Park is located about 100 kilometers (60 miles) west of Calgary, Alberta, Canada, on the Trans-Canada Highway.
The major gateway to Banff is the Calgary International Airport (YYC). There are numerous connections and direct flights available from Europe, North America and other international points. From the airport, there are several transportation choices. Buses and vans operate from the airport directly to Banff and to the Fairmont Banff Springs Hotel. As well, all major rental car companies are available. Advance reservations for rental cars are strongly recommended.
Bus Transportation to Banff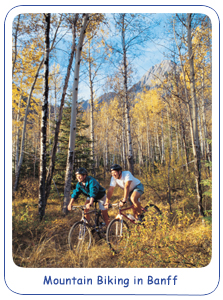 Bus service is available from Calgary International Airport, with Brewster Transportation or the Banff Airporter. There are several daily departures to and from Banff. Some buses provide door-to-door service to your hotel, while others operate to/from the bus depot in Banff. A short walk or local taxi will then get you to your destination hotel.
The bus is an economical option if you are planning to stay within the Banff townsite throughout your visit. Fares are approximately $45 CDN each way, or $85 CDN round trip. Travel time (one way) is approximately 2 hours.
Please check the following sites to coordinate bus schedules with your incoming and/or outgoing flights: Banff Airporter and Brewster Transportation. Advance reservations are highly recommended.
Car Rental
The total driving distance from Calgary to Banff is approximately 130 km/80 miles. From the airport, you should plan for a driving time of at least 90 minutes (perhaps up to 2 hours if you are driving through Calgary during rush hour).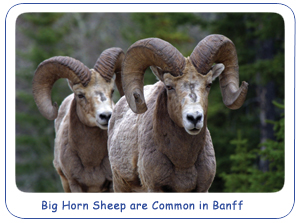 The Trans-Canada Highway (Hwy #1) is the main route, taking you directly into the Rockies. It is a scenic four-lane divided highway. If possible, try to plan your driving time for daylight hours so that you can appreciate the full splendor of the Rockies. And watch out for wildlife!
If you do not already have a National Park Pass, you will have to stop at the Park Entrance Gates (located on the highway just after the town of Canmore) to buy one. Prices range from about $10 CDN per day to $85 CDN per year. Payment can be made using cash, credit cards, or Interac. Park permits can also be purchased in the Banff townsite if you later decide to extend your visit.
Driving Directions
When leaving Calgary International Airport, take Barlow Trail South for about 5 km (3 miles). Approximately 4 traffic lights.
At the 16th Avenue intersection, turn right (west) toward Banff. The exit is on the right hand side. Note that 16th Avenue is also known as the Trans-Canada Highway (Highway #1).
Follow 16th Avenue West slowly through the city of Calgary.
At the west edge of Calgary, 16th Avenue speeds up and becomes Highway 1 West. Follow Highway 1 West for about 1 hour until you have passed the town of Canmore.
You must stop at the Banff National Park gates and obtain a valid park pass if you do not have one already. It is illegal to stay overnight in the national park without a valid permit. Prices range from $10 CDN to $100 CDN depending on the number and age of the people in your vehicle, and the planned length of your stay. Credit cards are accepted.
After the Park Gates keep following Highway 1 west.
There are two Banff exits on the Trans-Canada Highway. The first exit, called Banff/Lake Minnewanka, is the one to use when traveling west to Banff from Calgary. The exit is on the right hand side of the highway. After taking the exit ramp, turn left to head toward the town of Banff. Follow this forested road for several minutes as it leads you onto Banff Avenue in the heart of the town of Banff. (The second exit, called Banff/Mount Norquay, is the one to use when returning to Banff from the Lake Louise area, or if you missed the first exit. Head into Banff, find Banff Avenue, and turn right toward the river.)
Continue along Banff Avenue until you are on a bridge crossing the Bow River. At the end of the bridge, turn left at the traffic lights, staying in the left lane to follow the curving road of Spray Avenue for about 1 km. The castle-like hotel will loom ahead on your left.
Valet parking ($26 CDN per day) is available at the main hotel entrance. Self-parking ($19 CDN per day) is available in the parkade just past the hotel, after the statue and roundabout (traffic circle). Feel free to drop off your luggage at the main hotel entrance prior to parking. No tipping of hotel staff is required. Really!
Printable text version of these driving directions
Taxi or Limo
Another option for getting to Banff is via taxi or limo. However, these are expensive: about $170 CAN for a taxi one-way, and about $250 for limo service one-way. These options make more sense if you are sharing transportation with several other conference delegates.
What to Do in Banff?
The Banff area is spectacular for hiking in the summer. There are hundreds of hiking trails, ranging from the beginner to the extreme (e.g., scrambling, rock-climbing). Check out any hiking guide book for the Canadian Rockies. Popular outings include Fenland Trail, Bow Falls Trail, Grassi Lakes Trail, Tunnel Mountain Lookout, Sulfur Mountain Gondola, Johnston Canyon, Moraine Lake, Lake Louise, Athabasca Glacier, and a soothing soak in the Upper Hot Springs. Some of these are within walking distance from the hotel, while others will need a rental car for the outing.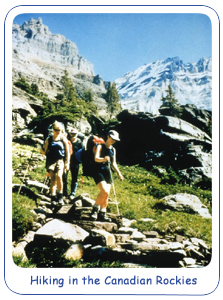 For more information on recreational activities and not-to-be-missed opportunities in the Banff and Lake Louise area, see the Banff / Lake Louise Tourism Bureau.
Weather, Climate, and Clothing
Dubbed "Canada's highest town" at 1384 meters (4540 ft) above sea level, and nestled in world-famous Banff National Park, the town of Banff is home to 7500 year-round residents and over 1 million visitors annually.
When coming to Banff for WWW2007, please keep in mind Banff's higher elevation. Be prepared for a variety of weather conditions, including a drier climate and cooler days than those to which you are accustomed. Evenings can be especially chilly!
The average temperatures for early May are between 5C (41F) and 13C (55F). Occasional rain showers and even light snowfall may happen. While most mountain tops have snow year-round, the town of Banff itself does not. Nonetheless, you should always be prepared for a surprise change in the weather! Therefore, you may want to bring a sweater, warm jacket, gloves, umbrella, and warm footwear, along with your usual, casual spring attire.
If you are planning on long walks or hiking during your stay, also bring appropriate footwear: sturdy hiking boots for serious hikes or a good pair of running shoes for walking around town. Banff is located in the heart of the Rocky Mountain Range and as a result many hiking trails in the area are rocky and uneven. It is also important to keep in mind that for every 200 meters of elevation gained, the temperate will drop about 1C.
Wildlife
Much of Banff National Park is untouched by humans, and as a result even Banff itself is home to many different types of wildlife. It is not unusual to see deer, elk, bighorn sheep, and caribou wandering around. Moose and mountain goats are slightly more elusive, and although rare, bears and cougars too have been seen in the townsite. For bird lovers, many different types of birds can be seen in the Banff area including Canada geese, bald eagles, and grouse.
It is important to remember to keep a respectful distance from the wildlife, especially if they (or you!) are with their young. Even more important than that, please don't feed them, no matter how cute they are! Animal-proof trash receptacles are located throughout the townsite, and it is essential that all litter finds its way into these to keep the town clean and the wildlife healthy!
Lake Louise area
Further out from Banff is
Lake Louise
a crystal clear glacier lake with an incredible view and a hike that is not to be missed.
Kanaskis area
Kanaskis Country
is a provincial park area in the Rocky Mountains. The entrance to Kanaskis Country is closer to Calgary than Banff and has many hiking trails and scenic viewpoints.
---
Drumheller
Drumheller contains unique geological features that have allowed many fossils to be discovered there.