Greg Hager featured on Johns Hopkins Medicine podcast
Greg Hager, Director of the Malone Center for Engineering in Healthcare, was recently featured in two episodes of the the Johns Hopkins Medicine "HealthNews Feed" podcast. Hager talks to host Elizabeth Tracy about how engineering technologies will enable older people to age in place.
Listen now:
December 24, 2018 – Beyond Rehab
December 17, 2018 – Technology and Aging
Gregory Hager named AAAS Fellow
Gregory Hager is among 416 fellows elected this year to the American Association for the Advancement of Science.
Founded in 1874, the AAAS recognizes scholars whose research is considered by their peers to be scientifically or socially distinguished. The distinction is unrelated to the annual list of fellows announced each spring by the American Academy of Arts and Sciences.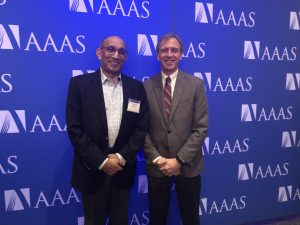 Hager is the Mandell Bellmore Professor in the Department of Computer Science in the Whiting School of Engineering. His research centers on computer vision and robotics, and he directs the Malone Center for Engineering in Healthcare. Currently he is working to develop intelligent robotic assistants.
Hager was elected to the AAAS for his contributions to vision-based robotics and to computer-enhanced interventional medicine.
"I'm honored to be named an AAAS Fellow," Hager says. "I look forward to advancing the mission of AAAS to promote science and engineering, and to articulating the importance of computing research as it pertains to all areas of science."
The newly elected fellows will each be awarded a certificate and a rosette pin during the AAAS Fellows Forum on Saturday, Feb. 16, in Washington, D.C.
Gregory Hager named TUM Ambassador
Gregory Hager, Mandell Bellmore Professor in the Department of Computer Science and director of the Malone Center for Engineering in Healthcare, has been named a 2017 Technische Universität München (TUM) Ambassador. Located in Munich, Germany, TUM is one of Europe's leading research universities.
Each year, TUM honors a group of select international top-level scientists and research alumni with the title of "TUM Ambassadors" in recognition of their services, acknowledging them as representatives of all the TUM research alumni around the globe.
In 2015, Hager won the prestigious Institute for Advanced Studies Hans Fischer Senior Fellowship, named for TUM Professor Hans Fischer (1881-1945), who was awarded the Nobel Prize in Chemistry in 1930 for his pioneering work on hemoglobin and related structures. These fellowships are awarded to outstanding international scientists who will spend three years exploring innovative, high-risk topics in collaboration with a TUM research group. Hager's project is exploring the modeling of data on human task performance, with a goal of creating intelligent robotic assistants who will enhance human ability through individualized training.